The snowboarding industry is filled with dozens of superb companies offering a wide range of top-quality products for boarders and skiers alike. While forking over moola for a new jacket might not be quite as exciting as, say, investing in a new snowboard, it cannot be denied that it is equally (or near equally) as important.
A good snowboard jacket is warm, waterproof, comfortable, and rugged. And the best snowboard jackets are all of these things in addition to stylish, lightweight, and able to regulate airflow.
We've rounded up our very favorite snowboard jackets of the year here at Much Awesome. The five jackets below are the very best of the best for 2014 as far as we are concerned. If you are in the market for a new outer layer, look no farther than these five best snowboarding jackets.
Here are the best snowboard jackets of 2014 in no particular order:
1. 2014 Outdoor Research Vanguard Jacket
Clocking in between $450 and $600, depending on the particular model and where you are shopping, the 2014 Outdoor Research Vanguard Jacket is one of the absolute best of the season.
Top-of-the-line performance is evident in the Gore-Tex soft shell that combats moisture while remaining breathable. The durable nylon face fabric looks good and prevents scratches, holes, and other abrasions while the fleece-lined inner is soft and comfortable. The Vanguard Jacket is built with a slightly relaxed fit, upping overall comfort and allowing enough room for a middle layer. CrossFlo chest-to-hip vents promote airflow by pushing overheated air out and moving fresh air in.
It's available in black, glacier, and pewter/solar.
Find out more about the 2014 Outdoor Research Vanguard Jacket.
2. 2014 North Face Free Thinker Jacket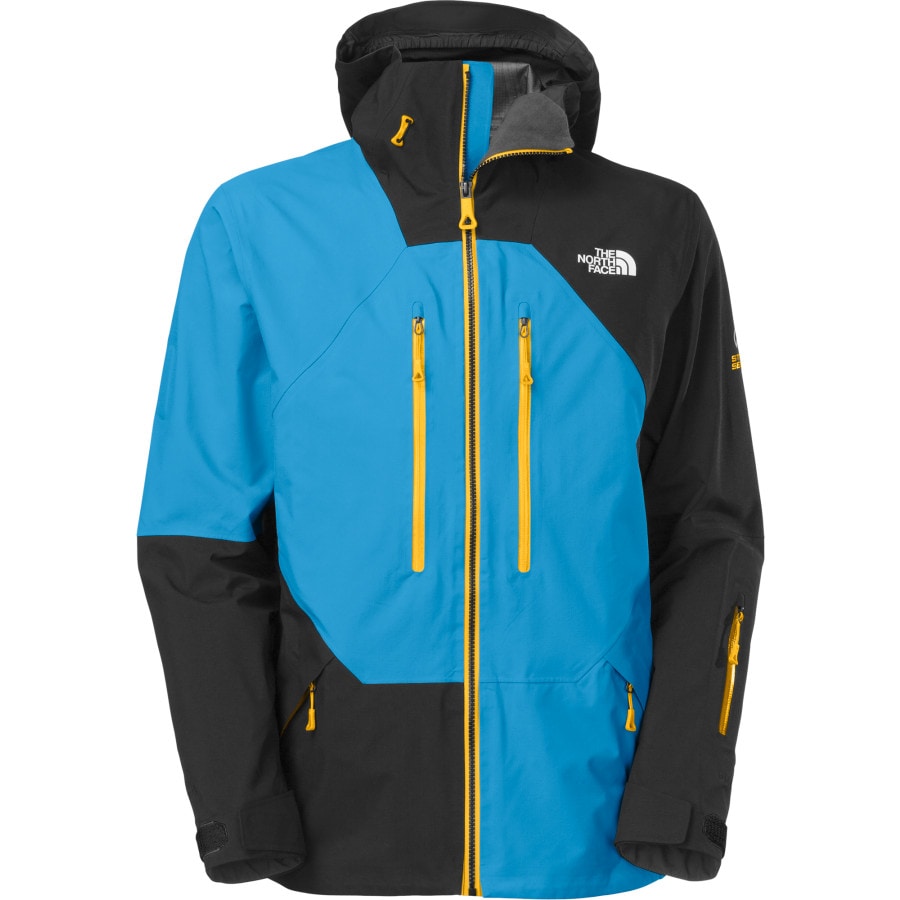 Headed out to the backcountry this winter? You'll be all but naked if you're wearing any jacket other than the 2014 North Face Free Thinker Jacket.
The most technical shell in North Face's Summit Series, the Free Thinker features a 3-layer Gore-Tex Pro shell, fully taped seams, and water-resistant zippers, all working together to guarantee waterproofing without sacrificing breathability. The jacket sports an active fit that gives you a full range of motion and provides enough room for a middle layer when needed. Venting under the arms prevents buildup of warm air when you're hiking or trekking to the top of a steep peak.
It's available in black/blue aster, yellow, and black.
Find out more about the North Face Free Thinker Jacket.
3. 2014 Helly Hansen Thrym Jacket
Helly Hansen is all about the highest quality and performance in their outwear and the 2014 Helly Hansen Thrym Jacket is no different.
Constructed specifically with breathability and air-regulation in mind, the jacket is 100% waterproof and ultra-warm but is able to regulate your body temperature to a t. There is no need to add or remove layers when wearing the Thrym. Pit-zips, body-mapping, and top-quality synthetic materials (including PrimaLoft and goose down) all help the jacket regulate your body heat, pumping out the warm air when needed and keeping you snug when conditions require that. No other jacket regulates your body temperature as well as the Helly Hansen Thrym.
Find out more about the Helly Hansen Thrym Jacket.
4. 2014 Strafe Nomad Jacket
A versatile and stylish jacket with a decidedly "snowboarding†look, the 2014 Strafe Nomad Jacket is an excellent option for those snow rats looking for comfort and performance at a reasonable price.
The 3-layer Gelanots Hybrid Shell jacket is designed to keep moisture out and warmth in. At the same time, however, its lightweight and functional design makes for a high level of breathability and temperature regulation. A slim fit and a longer cut gives the jacket loads of style, comfort, and even more protection from the elements. The Strafe Nomad is just as at home on the manicured corduroy as it is in the deep fluff of the backcountry.
It's available in stealth, mint, blue, and grapefruit.
Find out more about the 2014 Strafe Nomad Jacket.
5. 2014 Airblaster Grumpy Jacket
Airblaster has long been a favorite brand of snowboarders around the world and their 2014 Airblaster Grumpy Jacket is sure to become a staple on the slopes no matter where you are shredding.
A bare-bones style jacket, the Airblaster Grumpy takes the stance that perfect simplicity is much better than a bunch of random features tacked onto an otherwise good product. 10,000mm waterproofing and 10,000gm breathability make for a jacket that protects you from Mother Nature and keeps you cool. A tailored long fit, mesh lined underarm vents, wrist gators, and removable powder skirt are a few of the simple features that make this baby a top contender in 2014.
Find out more about the 2014 Airblaster Grumpy Jacket.